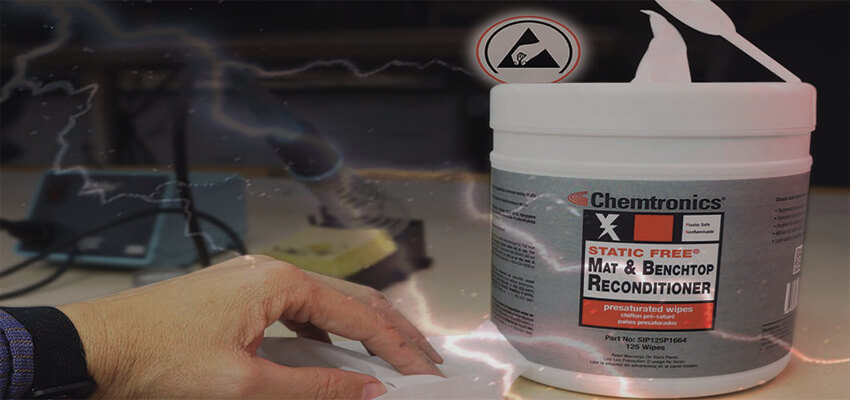 Cleans and Rejuvenates ESD-Safe Surfaces
Chemtronics Static Free™ products are engineered to protect electronic equipment and workspaces from static buildup while cleaning and reconditioning. These products provide everything required for a comprehensive surface treatment program as recommended by ANSI/ESD S20.20.
This is our tried and true Mat Cleaner (ES1664T) on a lint-free wipe. It removes caked-on flux and other contamination off your ESD-safe mats and adds a little treatment that rejuvenates the dissipative surface. These wipes can bring old ESD-safe mats BACK TO LIFE!
Static Free Mat and Benchtop Reconditioner:
SIP125P1664:125 pre-saturated wipes in a pull-up tub, 6/cs
ES1664T: 16 oz. trigger sprayer, 12/cs
Cleans and rejuvenates ESD-safe surfaces

Cleans and rejuvenates burned or dead spots on ESD mats

Alcohol-free -- will not dry mats

Long-lasting dissipative protection – up to 30 days

Effective in relative humidity below 15%

Chloride and amine free formulation

Noncorrosive

Meets static decay criteria of MIL-B-891705C